In this blog post we interviewed Sujay Math, Ph.D, the Senior Technical Lead at Zerust Oil & Gas, on various corrosion protection techniques for pipe casings and Zerust Oil & Gas approach to providing unique solutions with VCI technology. 
 Please share with us a little bit about your work experience?
I have an MBA degree, a NACE CP-3 certification, and received a Ph.D. in Civil Engineering from Clemson University where I specialized in reinforced concrete structures. I began my industry career with work in corrosion protection of reinforced concrete structures by using CP technology. I extended my knowledge in CP and research experience in corrosion inhibitors into oil and gas pipelines and petroleum storage tanks.
At Zerust Oil & Gas, I focus on evaluating the compatibility between CP technology and corrosion inhibitors for effective corrosion protection of oil and gas infrastructure assets.
What are some of the common problems with pipe casings from a corrosion standpoint? 
In the Oil & Gas corrosion industry, corrosion on the cased section of the carrier pipe is evaluated based on these scenarios and two main risk categories: Electrolytic Couple and Metallic Short. 
Electrolytic Couple 
The end seals are not always perfect and they fail over time. As a result, rain water along with a mixture of rain and mud gets into the casing annulus space and corrosion risk is initiated at coating anomalies. This kind of scenario is referred to as an Electrolytic Couple. 
The Cathodic Protection current may enter through the electrolyte and reach the cased section of the carrier pipe. The amount of current that enters the casing depends on the Electrolyte Resistivity. In most cases polarization levels are not exude for this reason. 
Metallic Short
The other issue with casings is when the earth settles or moves, the casing may come in contact with the pipeline and physically touching each other. This is commonly known as Metallic Short. Now, this is a high-risk scenario because the Cathodic Protection current is shielded by the casing and the presence of rain and mud water inside of the casing will cause corrosion on the carrier pipe.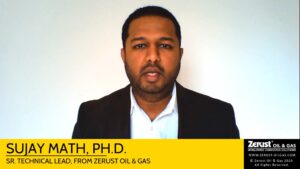 What are some techniques the oil and gas industry has used to address corrosion on cased pipelines? 
High Dielectric Wax Fill 
Traditionally, a High Dielectric Wax Fill is used in the casing annulus space. However, with recent experiences several owners have reported that the corrosion risks still exist in the wax filled casings. When the inline inspection is done the corrosion growth is still absorbed on the cased section of the carrier pipe. 
Some of the industry recognized issues are as follows. 
When the wax is installed in the casing high temperature has to be maintained so that the wax flows properly into the casing annulus space. In most cases, the product inside of the pipeline is cold and hence when the wax touches the pipeline it settles right there.

 

The presence of spacers blocks the movement of wax in the casing annulus space. For this reason, complete fill is not achieved. Over time, rain water gets into the casing and the corrosion risk still exists.

 

Cathodic Protection current cannot enter the casing and reach the carrier pipe.

 

Several pipeline integrity techniques cannot be performed if CP current cannot enter the casing and reach the carrier pipe.

 
Zerust Oil & Gas VCI Technology
Most owners are moving from using wax into the casing and have started using the new VCI technology into the casing. VCI Gel technology is a Vapor Corrosion Inhibitor (VCI) that is used to mitigate corrosion on the cased pipeline. 
Some of the advantages of using VCI are: 
VCI is water based and low viscous nature and as a result it flows easily during installation around the spacers and a complete fill is achieved.

 

VCI is highly conductive in nature as a result it will allow Cathodic Protection current to go through the casing and reach the carrier pipe.

 

Pipeline integrity techniques can be performed because of the presence of VCI gel.

 

Corrosion Prevention Mitigation and Annulus Fill Level Monitoring are possible.
Current guidelines by NACE (National Association of Corrosion Engineers), SP0200-2014 offers the option of using Vapor Corrosion Inhibitors (VCIs) as a corrosion mitigation technique.
How does Zerust Oil & Gas work with pipe owners to provide corrosion mitigation solutions for their casings? 
Our experienced team of engineers, chemists, field contractors, and project managers will work with the client's team to discuss the asset(s) or equipment type(s) requiring corrosion protection. Specifications, environmental factors, corrosion risk factors, recent corrosion scan data, as-built schematics, API regulations, budget, etc. will be discussed as required.  This information will allow Zerust's team to put together a Corrosion Mitigation plan custom tailored for that client and their asset(s) or equipment type(s) using Zerust's corrosion solutions and products. Upon submittal of an initial proposal, the discussed corrosion mitigation solution can then be tailored to further meet the client's requirements, asset needs, etc.
To view how the Zerust Oil & Gas process works from start to finish, click here.
What types of applications does Zerust Oil & Gas offer for casing protection using VCIs?
There are three different types of product applications for pipe casing protection offered by Zerust Oil & Gas.
High Viscosity Gel Application
For pipelines with a metallic short (i.e. casing in contact with the carrier pipe) or pipelines where a static fill anti-corrosion solution is needed. This also meets PHMSA requirements for a protection system that remains in place.
Powder Application
​For pipelines without a metallic short, but for which providing internal corrosion protection is a good operating procedure, Zerust recommends the use of its dry powder inhibitor. As long as there is minimal water ingress (i.e. end seal integrity is maintained) the system will protect the carrier pipe from corrosion.
Slurry Application
For long lengths of pipe with varying elevations, bends and other geometric/dimensional parameters where a powder or gel is not feasible.
For additional information about our applications and pipe casing solutions, please click here.
Where should pipe owners and operators go for more information about Zerust Oil & Gas Pipe Casing Corrosion Solutions?
For more information, they can visit our website at www.zerust-oilgas.com. They can also contact us and our team will be happy to help.
Related Content
Watch Sujay Math Video interview to view a video interview with Sujay Math, Cathodic Protection and VCI Gel Filled Pipe-Casings for Corrosion Protection, where he will discuss corrosion protection options for carrier pipelines in cased crossing scenarios.